I am going to be writing a few blogs that may come in handy for people who are looking for some advice when travelling. I will be talking about many things, from the best ways to travel cheap, to tips on communicating with people who don´t speak your language, and expriences as travelling solo as a girl (amongst other things).
I thought it would be nice to start of with talking about travelling light. I decided a few months before leaving for South America that I wanted to travel with just hand luggage.
I had to really think about the belongings I would be taking with me as I would be traveling through many different climates –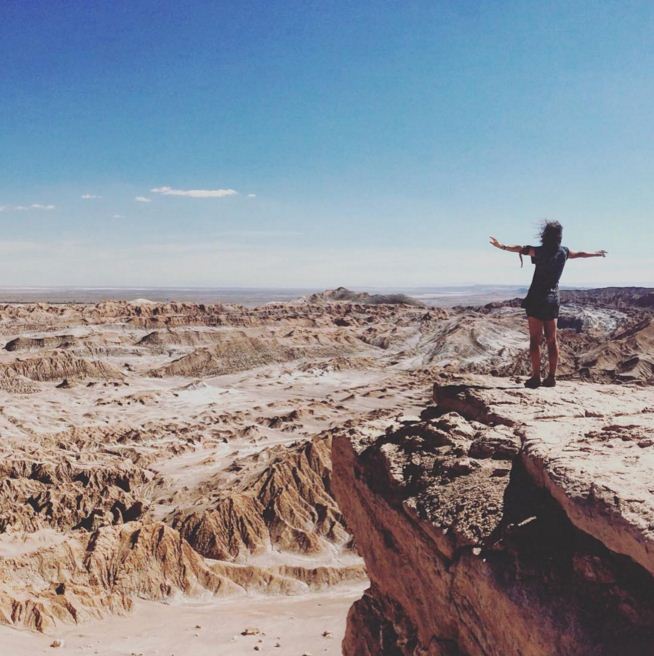 from hot deserts
to humid jungles
and snowy mountains.
The wonderful diversity that South America holds!
The Bags
I found my Tibet 35L Scafell Rock bag hiding under my stairs and though it looked like quite a good size, it turns out you can pick one up on the internet for about £8 online (Travel Out Doors).
I´m not going to lie, it´s not a fancy bag. It doesn´t have very comfortable straps or much support for the weight or your back. BUT if you dont have much money to spend on buying stuff for travelling, this bag did the job. I certainly suffered from bag envy but I have managed to live out of it for 8 months so far!
My leather "Hector" bag was found at El Rastro Market in Madrid. It certainly isn´t an ideal travelling bag either because it is naturally quite heavy and the straps can feel quite sharp when it holds a lot of things, but I didn´t want to pay for something that I didn´t really like just so I could have something more comfortable to travel with.
Finally, my little glittery backback. From malta, given to me from my mother. I love this bag despite two of its side pockets now not functioning. It has a nice string that holds everything together at the top underneath the flap. It´s hard enough getting into the bag myself so I didnt feel afraid of pickpockets trying to get in either.
I did get a few comments when hiking such as "That thing is your hiking bag?!" Well, yes. What more do you need to carry with you hiking other than water, a bit of food and chocolate, sunscreen, a camera, and occasionally an umbrella?
What the Scafell Rock bag holds: 11kg
Most of the items are made from Polystyrene, Velcrose, lace, or synthetic materials – they are very light materials that you don´t need to iron and also dry very quickly as they dont retain much water (good for hand washing). They fold down to nearly nothing! But everything adds up..
8 Tops (one for sleeping)
2 Long Sleave Tops
2 Over Shirts
2 Trousers
2 Shorts
2 Dresses
2 Skirts
Black Leggings
Pyjama Trousers
9 Pants
8 Socks
3 Bras
Pair of Tights
Animal Winter (Rain Proof) Jacket
Light Coat
Cardigan (Forgotten at my first Hostel, after 2 weeks of travelling), I eventually bought an alpaca jumper in Bolivia, towards the end of my travel.
2 Belts
2 Bikinis (In SA, the water can cause infections if you aren't carefl about cleaning and drying your swimwear each day)
Northface Hiking Shoes
Flip Flops
Sandals
Basic Shoes
Trainers
I know, I know, you´re all probably thinking "what the hell is this girl doing with 5 pairs of shoes if she is travelling light?!"
I picked up the trainers in Bolivia, knowing that soon after I would finish travelling and settle somewhere. Other than the hiking shoes and the new Bolivian trainers, the other three shoes wrapped up very tightly and didn´t take up much space at all.
Travel Towel
Multi Use Scarf – Scarf/Shawl/beach wrap/headscarf/towel/sheet
Wash Bag – Toothbrush, toothpaste, shampoo, conditioner, body wash, razor, deodorant, dry shampoo, moisturiser, hairbrush
Make Up Bag – You are probably never going to use it except for in cities
2 Plastic Bags – For Laundry and Shoes
Extra – Sun Cream & Mosquito repellent, Medicine (antibiotics, "calma" natural sleeping medicine, agua florida and coca leaves, propolis, cloves & plasters)
What all my belongings look like
I think that the belongings I travelled with was the ideal amount of things to have, I did not have any "well, I might use this, I will take it with my just in case.." items. I certainly wasn't a "1 trousers, 1 shorts, 3 tops, and 3 pants" traveller, but I never met someone with a smaller bag during my journey either!
I have organised things in this photograph to show you what I started with in the Scafell Rock bag – Top left corner to the yellow travel towel and above
what I accumulated through my journey (3 months) – from the fanny pack in the bottom right corner up to the top right corver
and my electronics and books in my Hector bag – from my documets bag in the bottom left corner to my passport and wash bag in the bottom right corner
What my Hector bag Holds: 2-3kg
Electronics, books, documents, and small bits and bobs.
Passport
Purse
16GB iPad Mini
8GB iPhone 4s
Canon M3 Camera
World Travel Adapter With Dual USB Charger
USB iPhone Charger
USB iPad Charger
Camera Charger
Card Reader
16GB Card
Lens Cleaning Cloth
USB Cable
2TB WD Passport External Hard Drive
Book – English books are like gold in South America! I always had one book to read on long coach journeys and I would swap it along the way with other travellers or where hostels had book swaps.
Journal
Notepad
2 Pens
Lonely Planet: Spanish – English pocket phrase book and Dictionary
Lonely Planet: Portuguese – English pocket phrase book and Dictionary
Lonely Planet: "South America" on a shoestring
Important Documents Bag
Compact Umbrella
Sunglasses
Playing Cards
"Good Luck Box"
Mini Sewing Kit
String – for making things
Yerba Mate Cup – Gift
Green Glass – Gift
Fanny Pack – normally kept around my waist holding my phone, purse, a pen, and some keys
Glittery Back Pack – I keep my backpack in my Hector bag when I am moving about, so I just ended up carrying two bags.
What Everything Looks Like All Packed-Up
Would I change anything if I had the chance?
No. Because I don´t think anyone needs to buy anything for traveling, all the money in your pocket should be kept for more important things. Spending £40 on a bag can be used on accomodation for 4-5 days or food for 3 weeks. This is how you should be thinking!
Pros of Travelling Light
Once you know your tetris system of packing, it doesn´t take long
You memorise all your belongings and where they are in your bag so you can find anything with your eyes closed (Or when you dont want to wake people up with light in hostels)
You always think about what you can buy
It fits into small lockers
You don´t need to check any luggage in – so no waiting around before and after flights
Laundry is cheap – it is usually done by weight in South America
Guys think it´s hot 🙂
Cons of Travelling Light
If you lose something it makes a big difference
You can get bored of what you are wearing
Laundry days come around quicker than usual and they are always URGENT
You can´t buy stuff
Final Thoughts
There is definitely room for improvement (but no more room in my bags!) with more things I could drop, but I am generally happy with the things I took with me. I never felt that I missed anything.
Travelling light makes you focus on what you are really gaining through experience rather than material posessions. Maybe it is slightly masochistic thinking, but eventually you may even start enjoying the satisfying feeling of denying yourself things that you want with the control you have over your own desires.